Khurgan & Khoton Lakes
Khurgan and Khoton lakes are fresh watered lakes interconnected with each other by underground channels. The lakes are fed by glaciers of the Altai Mountains and surrounded by scenic landscape of snow-capped Altai Mountains and pine trees. The surface of the lake is 50.1 km2, the average depth is 28m, and the maximum depth is approximately 50m. The lake is home to Siberian catfish, lenok and grayling and its eastern shore is a settlement for Cossakh nomads who welcomes travelers kindly to their yurt.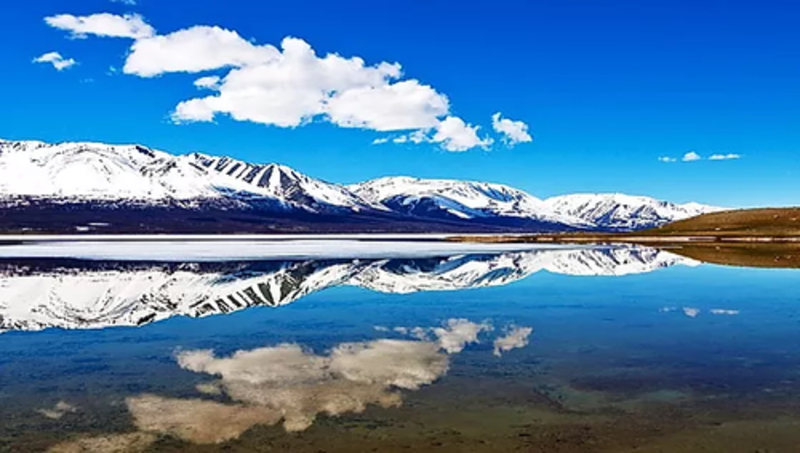 ---
Baldan Baraivun Monastery
The Baldan Baraivun Monastery was the second largest Yellow Hat Lamaism Centre in Mongolia, situated in Umnodelger village, Khentii province. The monastery was built in the 17th century and there were over 50 temples and unfortunately demolished during the communist purges in 1937. Today three of the them have been restored and became one of eastern Mongolian highlights. The monastery is surrounded by scenic Khentii Mountain ranges and green meadows.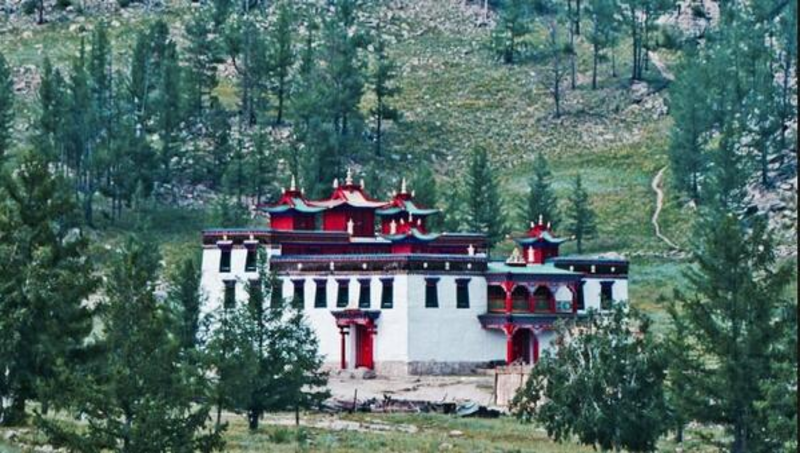 ---
Blue Lake
Situated near Tsenkhermandal village in Khentii province and it is a small fresh watered lake, 1675m above sea level. The lake is surrounded by a beautiful landscape and forested hills which is abundant with wildlife and vegetation. It is a historical site and in the Mongolian secret history, chronicle book of Chinggis Khaan's life, Temuujin, childhood name for Chinggis was enthroned as a king of the united tribes of Mongolia and titled as "Chinggis" in 1189. There are woodcrafts for 36 golden lineage khans (kings of Mongolia) on the southern shore of the lake.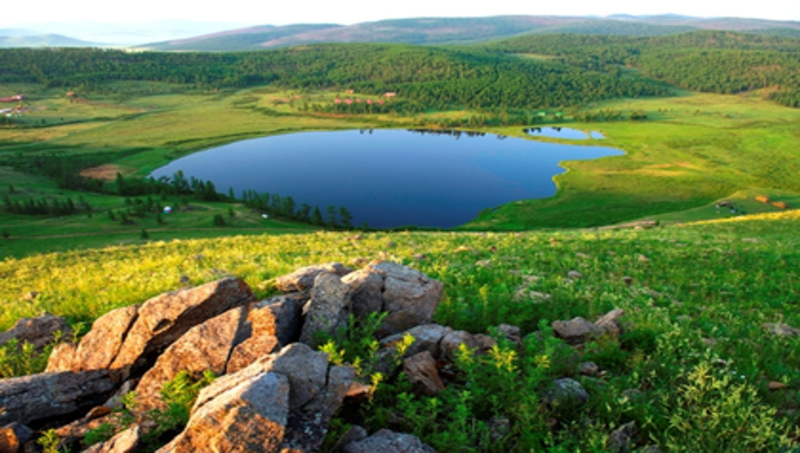 ---
Altai Tavan Bogd National Park
Altai Tavan Bogd National Park offers the most spectacular five mountain scenery in Mongolia and Mt. Khuiten is the highest point at 4374m above sea level. Snow- capped peaks, glaciers, valleys, lakes and waterfall combine to form a perfect landscape. The park covers 6,362 square km and is a home for many species of alpine animal, such as argali sheep, ibex, red deer, moose, beech marten, snow cock, and golden eagle. Travelers who have the opportunity to visit the park will not want to miss a chance to visit iconic eagle hunters.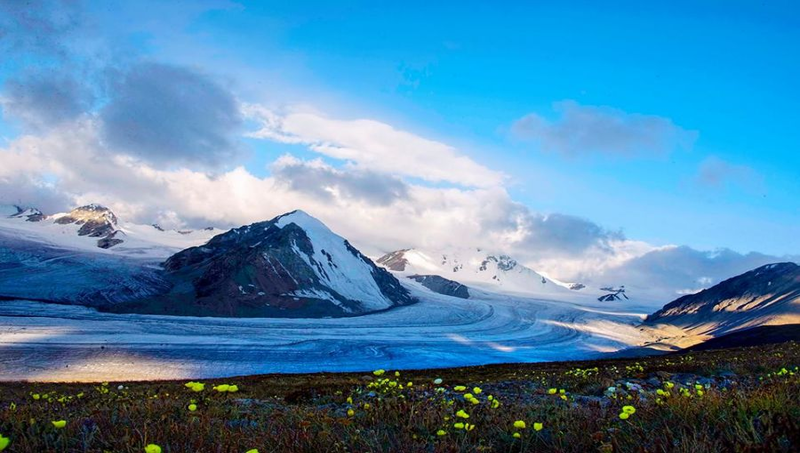 ---
Tsonjin Boldog & Chinggis Khan's Statue
A historical place where a giant equestrian statue of Chingges Khan lies in Erdene Soum, Tuv provice. Chingges khan is said to have found a horse whip in the area while returning after warfare. A monument base complex with 36 columns representing the 36 kings is a large establishment devoted to provide tourists with their needs and services including an exhibition hall, souvenir shops, restaurant, etc. Visitors can reach an observation deck which is on the horse head by taking an elevator or walk to enjoy an amazing panoramic view.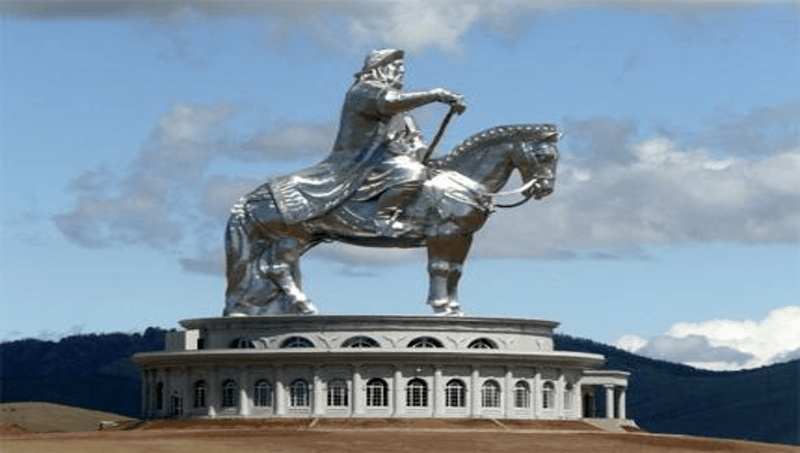 ---
Amarbayasgalant Monastery
One of the few monasteries to have escaped destruction during the communist purges and it is located in the Iven valley near Selenge river. The monastery is one of the three largest Lamaism centres in Mongolia, dated back to early 17th century. A golden Buddha statue and huge stupa on hilltops backyard the monastery offer a great panoramic scenery of the surroundings. It is said the monastery was named after a boy and girl who were inspired to construct the monastery on the very spot. This is truly a place of peace and serene also a real highlight of your visit to Mongolia.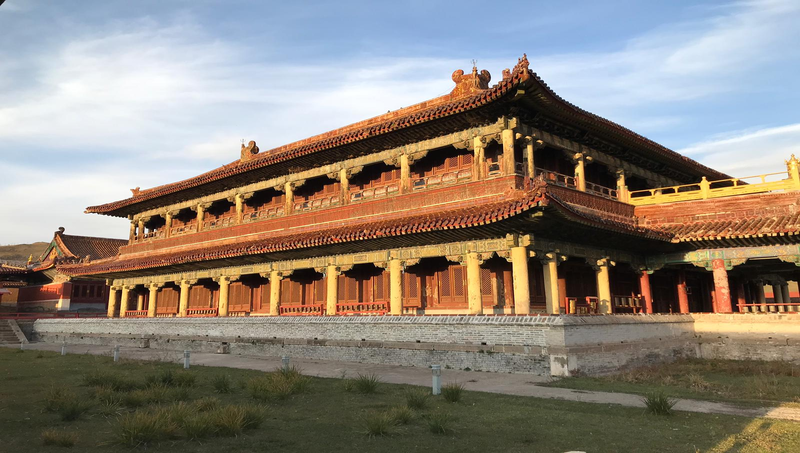 ---
Ulaagchnii Khar Lake
This azul lake among sand dunes lies in the western plateau of Khangai Mountain Range. The lake stretches about 37km and 4-12km wide on average —protected as a Strictly Protected Area and one of the most unusual natural landscapes and freshwater lakes of Mongolia. The shoreline of the lake is rocky and has many different peninsulas and bays that penetrate into the lake water. It is also a stopover point for 13 endemic species of migratory birds and deer, bucks, fox, wolf, corsac fox, Pallas cat (Otocolobus manul) and marmot are the main habitants. The sand along beach contains beautiful waves like pattern and it is an ideal place for sand boarding and swimming.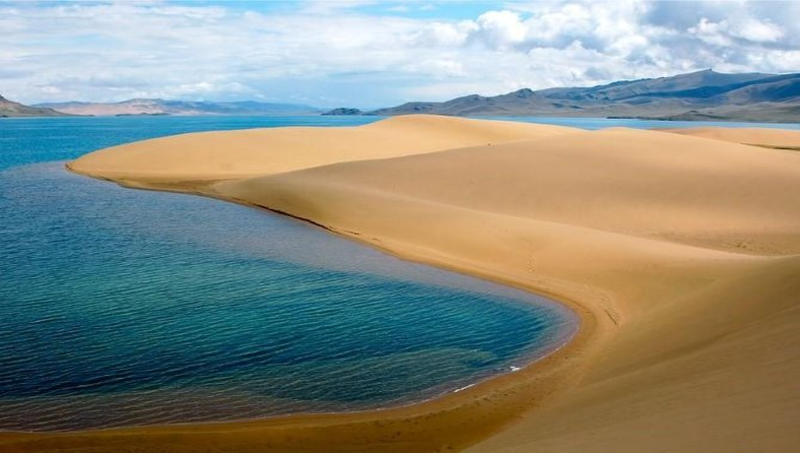 ---