Popular sights
Altai Tavan Bogd National Park
Altai Tavan Bogd National Park offers the most spectacular five mountain scenery in Mongolia and Mt. Khuiten is the highest point at 4374m above sea level. Snow- capped peaks, glaciers, valleys, lakes and waterfall combine to form a perfect landscape. The park covers 6,362 square km and is a home for many species of alpine animal, such as argali sheep, ibex, red deer, moose, beech marten, snow cock, and golden eagle. Travelers who have the opportunity to visit the park will not want to miss a chance to visit iconic eagle hunters.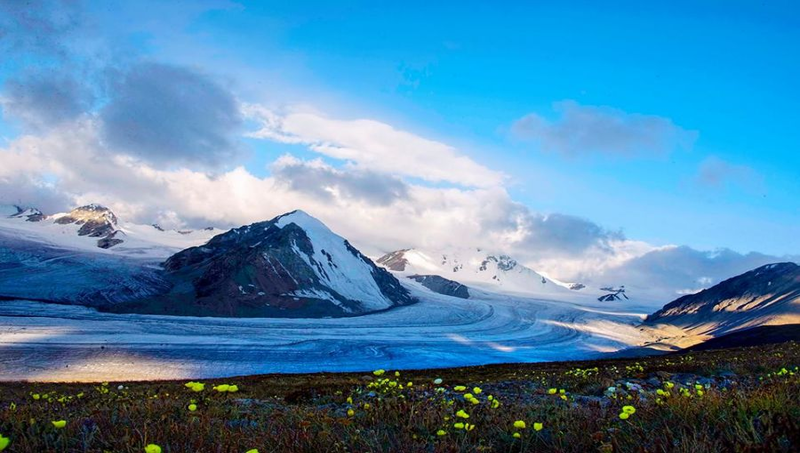 ---
Amarbayasgalant Monastery
One of the few monasteries to have escaped destruction during the communist purges and it is located in the Iven valley near Selenge river. The monastery is one of the three largest Lamaism centres in Mongolia, dated back to early 17th century. A golden Buddha statue and huge stupa on hilltops backyard the monastery offer a great panoramic scenery of the surroundings. It is said the monastery was named after a boy and girl who were inspired to construct the monastery on the very spot. This is truly a place of peace and serene also a real highlight of your visit to Mongolia.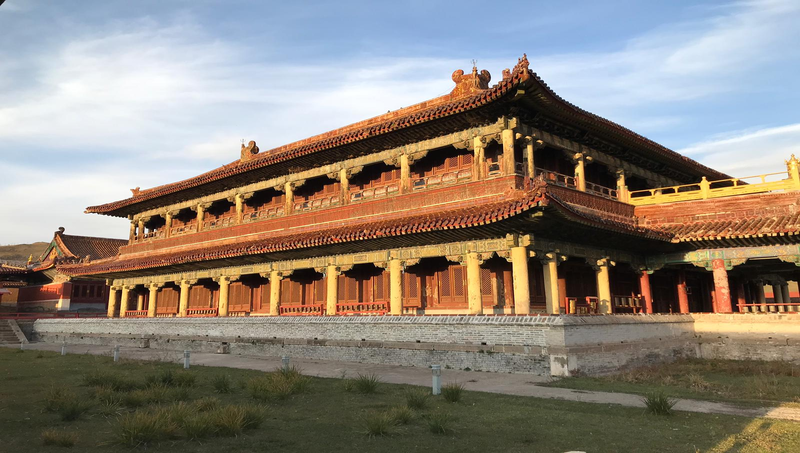 ---
Gorkhi Terelj National Park
A short drive to northeast from Ulaanbaatar city lies Gorkhi-Terelj National Park, covering 20 million acres. It is one of the worth visiting places for trippers who are willing to do many things in a short period in Mongolia. Features of the Park include Granite Mountain formations, Turtle rock, Ariyapala meditation temple, Alpine meadows and clean brooks. Great ways to experience the park are hiking, horse or camel riding, mountain climbing, rafting or visiting nomads. Exploring Ariyapala temple offers panoramic views of a magnificent alpine landscape.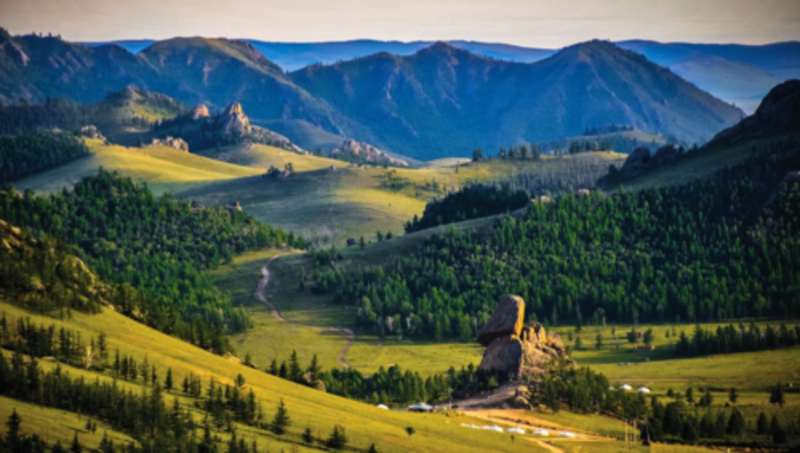 ---
Ikh Gazaryn Chuluu
The picturesque vertical granite hills, originated from Permian and Cretaceous periods. It has a rich family of plants and is also home to over 20 species of wildlife, with corsac fox, lynx, ibex, hare, marmot and black vulture. This is an ideal place to hike through the gorgeous granite hills and explore a small amphitheater and stele which is dedicated for a famous "traditional long-song" singer who was born and bred in the place. Moreover, the site has great campsites with good views.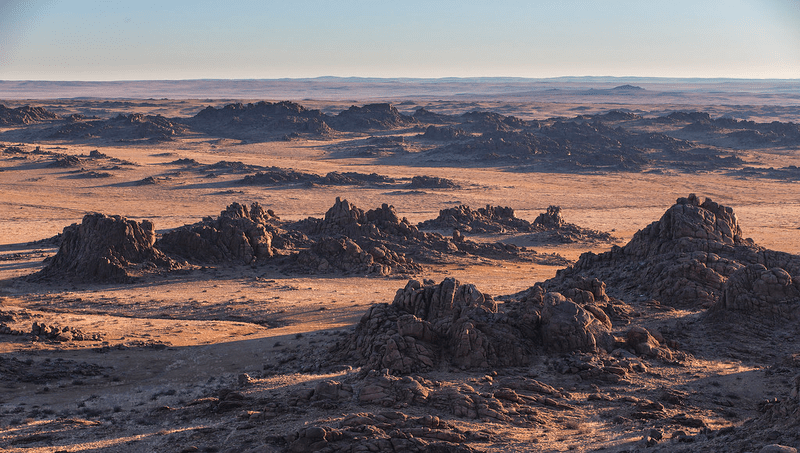 ---
Khermen Tsav
Situated in Gurvantes village, South-Gobi province, stretched over 13km, mostly limestone rock formations, which are the remnants of an ancient sea that covered southern Mongolia. Ideal for nature enthusiasts alike, visualize steep canyon walls, sandstone pillars, panoramic views as far as the eye can see and scenic hiking, surrounded by vast wilderness. Not like a busy tourist destination only offers the natural peacefulness of this once great canyon. When driving to the Khermen tsav, enjoy some sites, such as Zulganai Oasis and Narandaats Oasis meadow that you pass and see before exploring the canyon.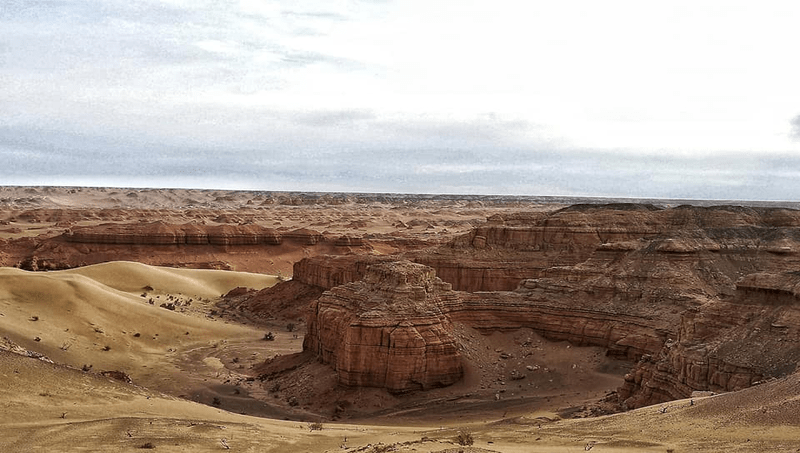 ---
Khongor Sand Dunes
This over 120km stretch of sand dunes is situated within the Gobi Gurvansaikhan National Park, South-Gobi province. The dunes cover over 965 square km and reaches a height of about 300m from base to peak. That peak, which known as a "Singing dune" among locals. Because the dunes produce a sound like a humming or booming sound which caused by wind passing over the dunes. Also the sands have attractive curves which end in a sharp edge, making waves like patterns on the sand. Dunes, green meadows, river, small ponds and bushes combine to form a beautiful gobi oasis.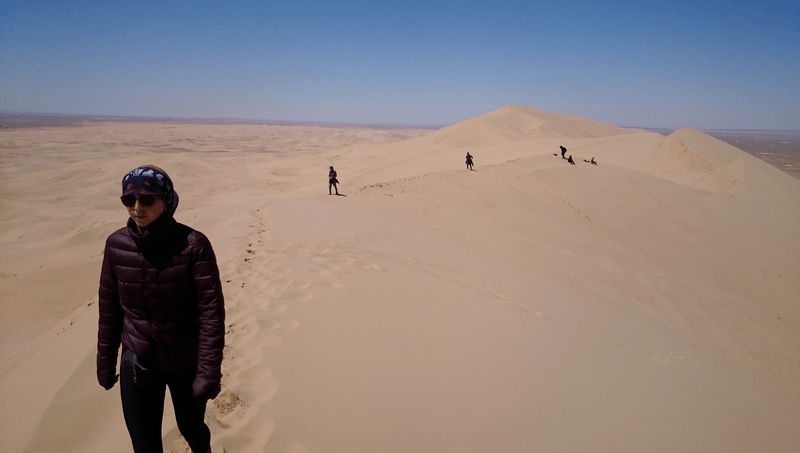 ---
Khugnu Tarna Nature Reserve
Located in Rashaant village, Bulgan province, covering 49,600 hectares. The nature reserve represents three different natural zones, such as Gobi-type of deserts, steppes and alpine and it protects some endangered species of wildlife, especially gray wolves and different types of hawks. There is an extraordinary sand dune called Elsen-Tasarkhai, stretches over 80km. The place offers a beautiful scenery of the perfect combination of different types of landscapes in the same place. One of the main attractions of the area is Khugnu Khan Mountain that can tell some story about an old monastery remains, dated back to 17th century.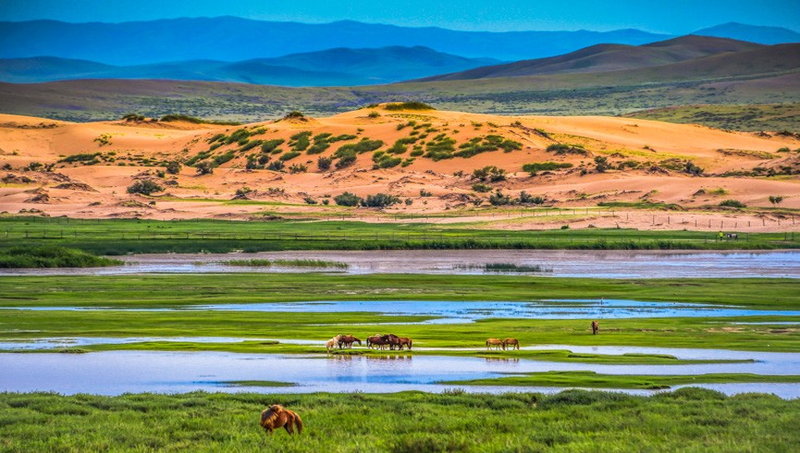 ---
Khuvsgul Lake National Park
Known as the Blue Pearl Lake in Mongolia, Khuvsgul lake is the Mongolian largest fresh watered lake with a depth of 262m (860 feet) and a length of 137km (85 miles) deep into the Siberian taiga. The lake, Khoridol Saridag mountain range and green pine forests that surround it form the basis for the spectacular Khuvsgul Lake National Park, one of the major destinations for travelers. The lake holds almost 70 percent of Mongolian fresh surface water and 0.4 percent of all the fresh water in the world. The Northern Mongolian route takes vacationers to the lake for its amazing landscape, crystal clean water and wildlife-laden lash forests.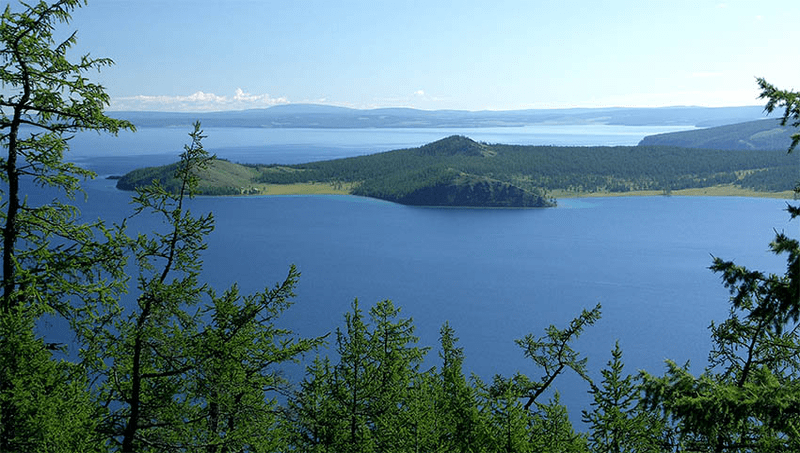 ---
Naiman Nuur National Park
Naiman Nuur is the most beautiful natural park in Central Mongolia. With eight lakes with individual descriptive names, exploring this natural wonder park is a must for all romantics – whether you're hiking or riding horses. This enchanting place environmental spacious surroundings take in coniferous forest, undulating pasture with lava rock fields, wild flowers and spectacular views of alpine mountains. The lakes were created by volcanic eruptions centuries ago and interconnected with each other by underground channels.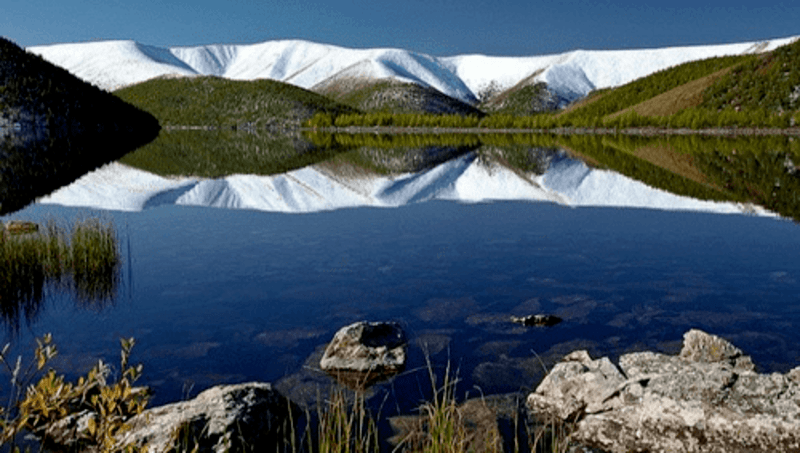 ---
Orkhon Valley National Park
Included in the list of UNESCO World Heritage as representing the evolution of nomadic pastoral traditions spanning more than two millennia. The most popular travel attractions in central Mongolia are included in the Park, such as Erdene-Dzuu monastery-the first Buddhist monastery complex of Mongolia, Tuvkhun Temple- overlooking a hill covered with pine and larch forests at 2,600 m above sea level, Orkhon waterfall- formed by a unique combination of volcanic eruption and earthquake approx. 20.000 years ago and water tumbles over the vertical drop into a deep, narrow canyon makes it more unusual.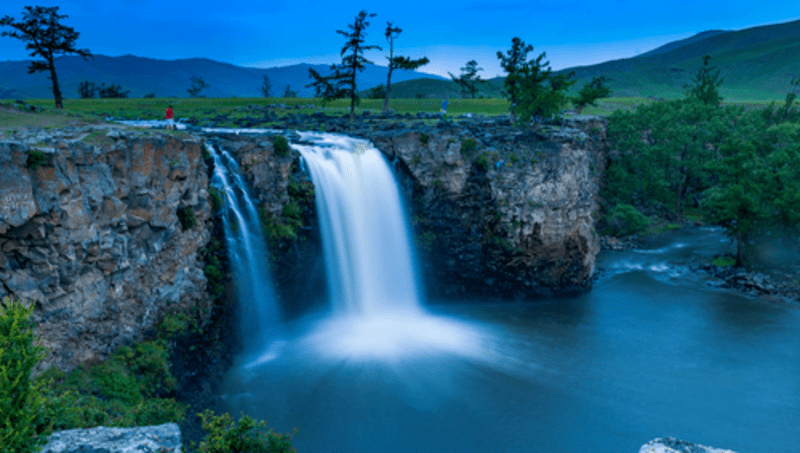 ---
Tengis-Shishget National Park & Reindeer Tribes
Tengis-Shishget NP provides an incredible opportunity to experience Taiga wilderness (lash forest zone) and biodiversity of Mongolia. The Taiga is a settlement of Mongolian reindeer tribes, the Dukha and many wildlife: Eurasian elk, red deer, musk deer, wild boar, badger, wild reindeer and Eurasian otters inhabit in the area. Features of the Taiga zone include lush coniferous forests, vast valleys, wetlands, wild flowers, crystal clean streams and high peaks of Red Taiga, surrounded by 869,070 hectares. It is an ideal place where travelers can get the opportunity to get close to reindeers and get a rare insight into the daily life of the Duka, reindeer herders in Mongolia.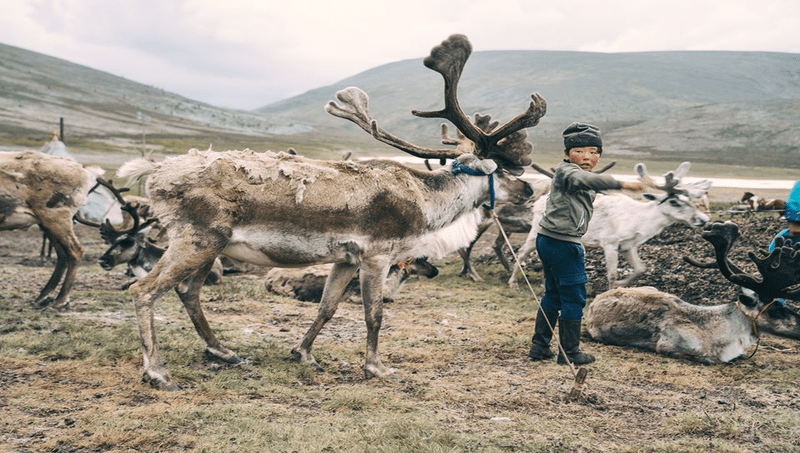 ---
Tsonjin Boldog & Chinggis Khan's Statue
A historical place where a giant equestrian statue of Chingges Khan lies in Erdene Soum, Tuv provice. Chingges khan is said to have found a horse whip in the area while returning after warfare. A monument base complex with 36 columns representing the 36 kings is a large establishment devoted to provide tourists with their needs and services including an exhibition hall, souvenir shops, restaurant, etc. Visitors can reach an observation deck which is on the horse head by taking an elevator or walk to enjoy an amazing panoramic view.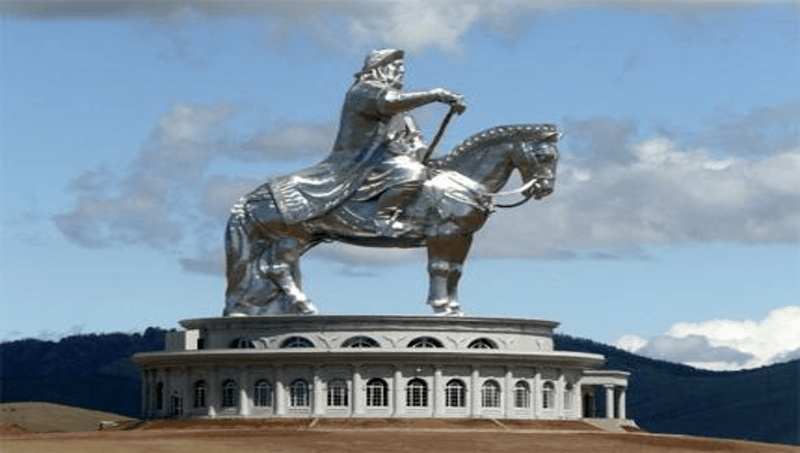 ---
Ulaagchnii Khar Lake
This azul lake among sand dunes lies in the western plateau of Khangai Mountain Range. The lake stretches about 37km and 4-12km wide on average —protected as a Strictly Protected Area and one of the most unusual natural landscapes and freshwater lakes of Mongolia. The shoreline of the lake is rocky and has many different peninsulas and bays that penetrate into the lake water. It is also a stopover point for 13 endemic species of migratory birds and deer, bucks, fox, wolf, corsac fox, Pallas cat (Otocolobus manul) and marmot are the main habitants. The sand along beach contains beautiful waves like pattern and it is an ideal place for sand boarding and swimming.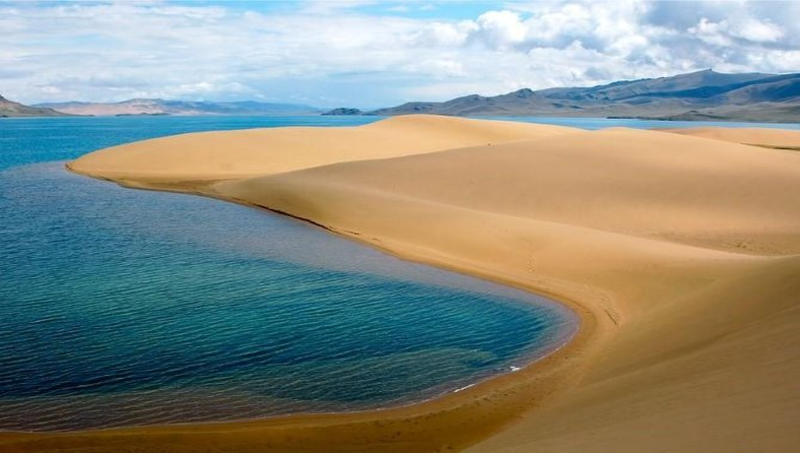 ---